Howdy folks! Long time no see, right? Well I'm back! Again! Haha. And in my lengthy absence I've discovered a new love for lingerie. Well, I've always loved lingerie and how it looked on other ladies, but I never thought it would look nice on me. I do wear corsets but those are for more modification purposes as I started
waist traini
ng. I've never been very comfortable with my body but being a part of the vintage community and seeing women of all shapes and sizes has definitely helped my confidence levels. It's still a process and there are some days when I feel I look like crap but I work through them. And it usually results in me buying something which is good for me but bad for my wallet haha.
As I mentioned, I've been wearing corsets for about a year now, but other than that it was pretty much a simple bra, panties, and tights, in cooler weather. When I decided that I wanted to incorporate more vintage inspired lingerie into my wardrobe I knew I wanted to start with stockings. I love the look of stocking, especially seamed stockings. I feel it's so feminine. After following Jasmine from
Quirky and Curvy
and Elinor from
The Nylon Swish
on Instagram and seeing their posts of their daily stocking wear, I knew that's where I wanted to start.
The only thing that worried me was I have pretty big thighs. And when I say big, I mean I have Thunder Thighs haha. It feels like I carry a majority of my weight there. So I was nervous about spending money on stockings that would cut into my thighs. I did a lot of research and felt like I visited hundreds of sites. The first site I found that looked the most promising was
Secrets in Lace
. They offer a wide variety of stockings and sizes as well as other lingerie items. I decided I would try them out as my first purchase of stockings. I chose the
Classic Reinforced Heel and Toe (RHT) stockings
. Priced at only $16.99 I felt that was a great deal.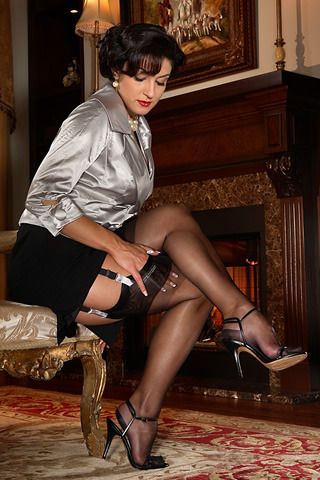 Now I just had to choose a size. Their size charts range from Petite to Opera and you pick based on your height and weight. I'm 5'7 so the options for me were Medium, Long, or Opera. Medium was 5'4-5'8 120-150lbs. I fall in the height range but not so much in the weight lol. So that was out. Long was 5'7-5'11 130-165lbs and Opera 5'10-6'2 165-200lbs. I'm nowhere near 5'10 but I decided to go with Opera to hopefully accommodate for my thighs. I placed my order for the stockings (I got a garter belt as well, but more on that in another post) and patiently waited for them to arrive.


When they came I immediate put them on and holy silkiness! I had never worn something so smooth. I can't tell you how excited I was as I was gliding them up my leg. But then that excitement waned as I got to my thighs. They felt a little too tight. I attached them to my garter and it seemed like they were holding on for dear life. Walking around wasn't too bad, but when I sat down it wasn't very comfortable. Sigh.


Feeling kinda bummed, I remembered reading on Georgina's
Fuller Figure Fuller Bust
blog about a company based in the UK called
The Big Tights Company
. They specialize in hosiery for bigger ladies. Their slogan is, "Our sizes start where other peoples stop", so I knew I was in good hands lol. Their prices are amazing, if you live in the UK lol. I ordered the
Magic Stockings
for £6.95 and the
Magic seamed Stockings
for £8.95 which is $10.48 and $13.50. That's cheaper than the Secrets In Lace stockings. Shipping was £4.55 so in total I paid £20.45 which is $30.85. And honestly it was worth every penny!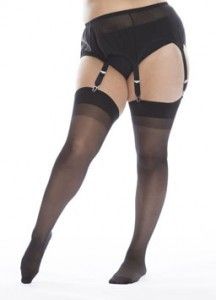 These stockings fit AMAZINGLY! They come up high on my thighs, they don't dig in, and when I sit I feel just fine. They don't have the awesome silkiness like the SIL stockings, but that doesn't even matter. They fit!
Here I paired them with my Venice garter belt (also from Secrets In Lace), Orchard Corset CS-411 corset and Goddess longline bra. And I'm going to be completely honest with y'all; I have never felt so sexy in my life. And this is just all basic stuff haha. But I think just seeing everything together helps. And lord knows I NEVER would have posted pictures of me wearing this little unless I really liked the way I looked. Also if there are any other ladies (or gents) struggling with the same issues, I hope I've helped some.
Well there we go. I want to continue to do more posts like this as I build my lingerie collection while also gaining more confidence in my body. I mean, it's the only one I've got and the only one I'm gonna have so I should learn to love it. I'll leave y'all with a song I love, sung by the lovely Ella Fitzgerald and featuring Count Basie, Shiny Stockings. :)
MKD